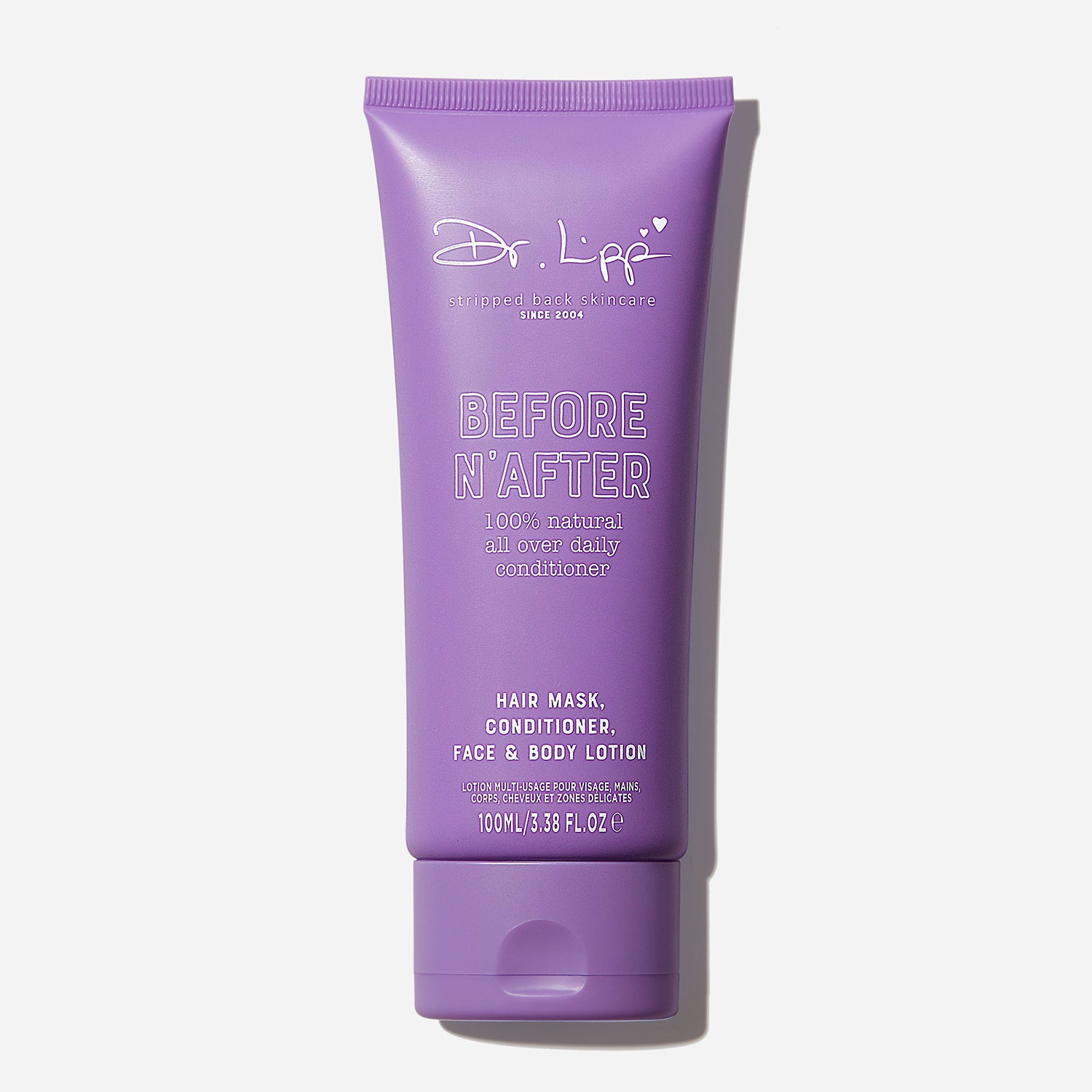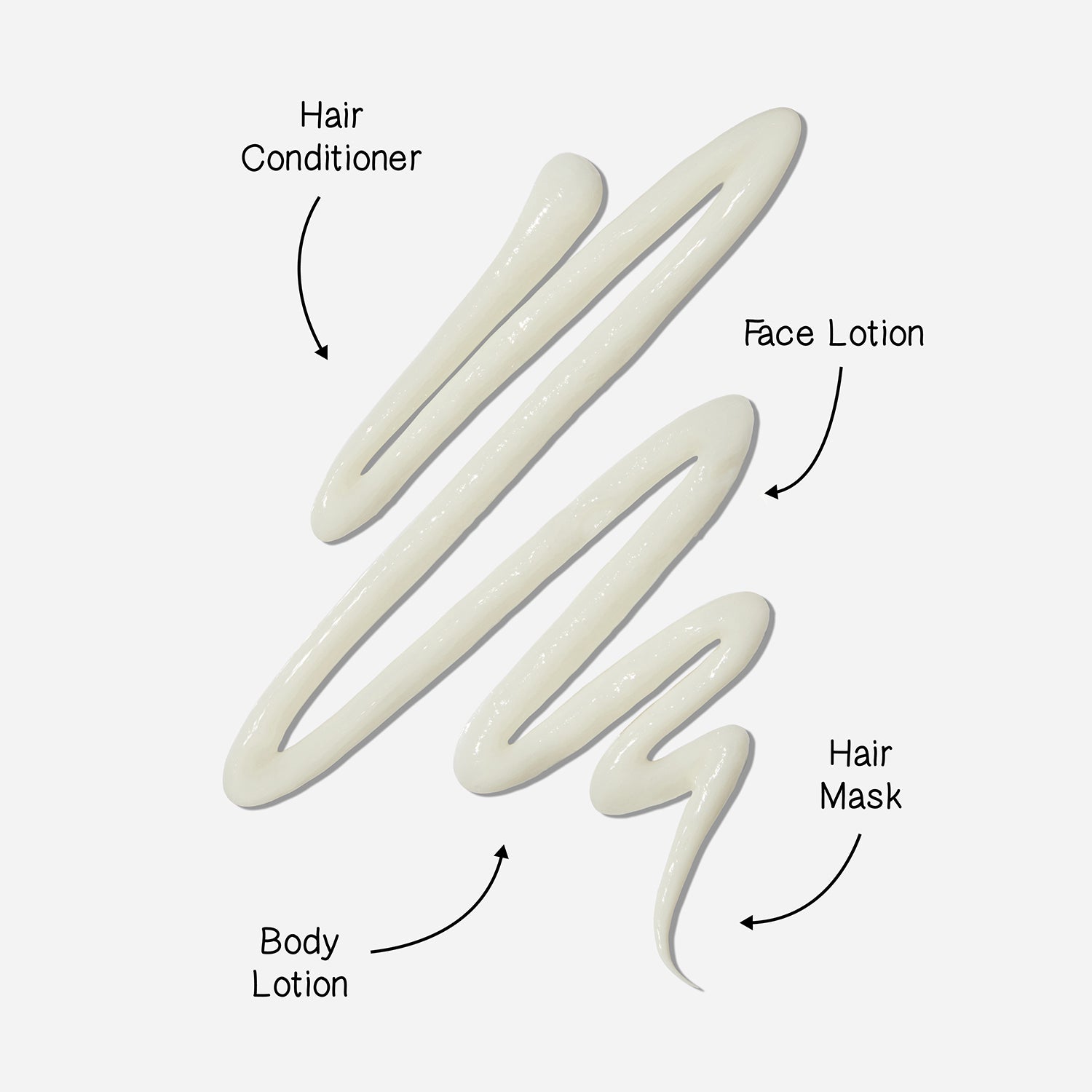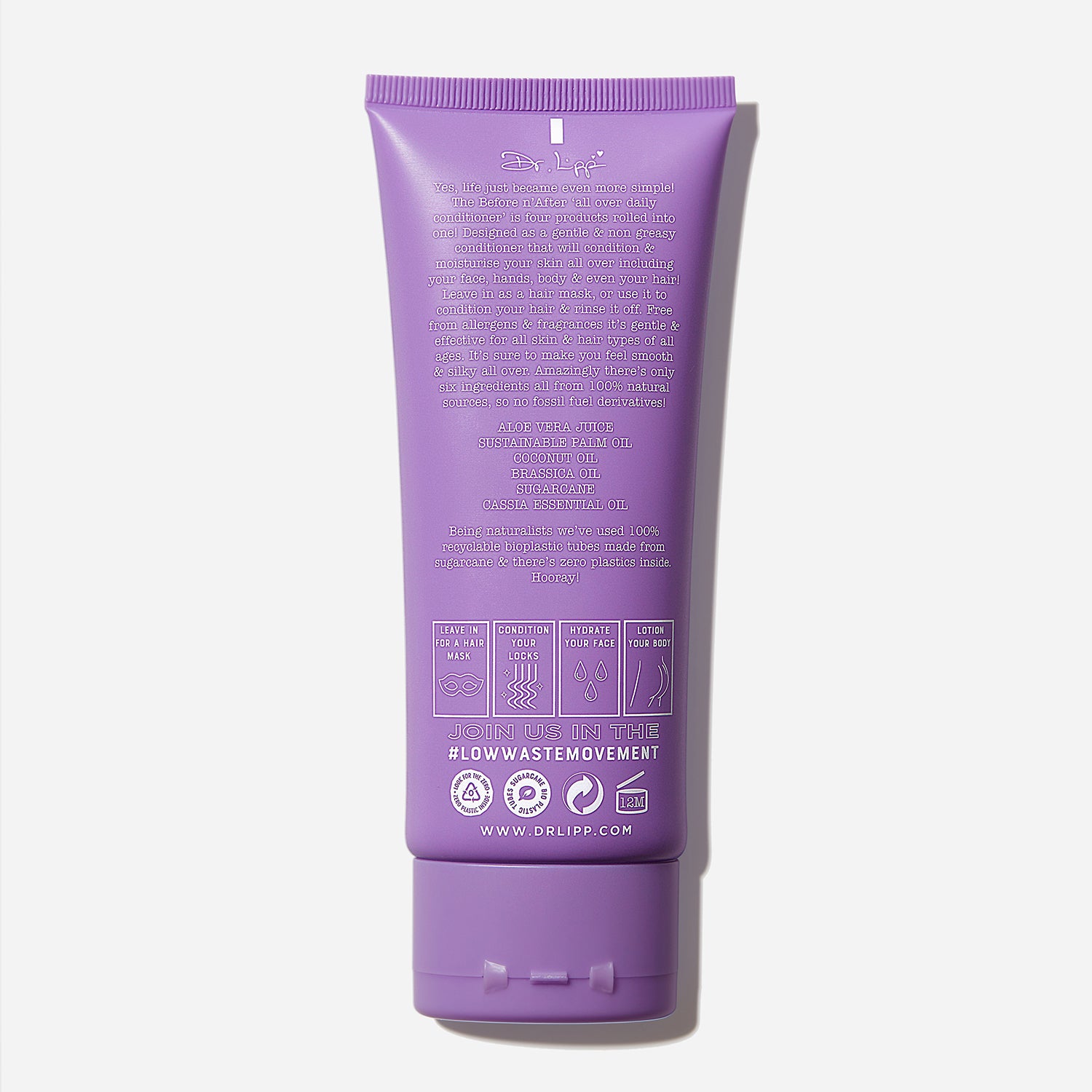 100% natural all over daily conditioner for skin & hair. 100ml
Before N'After
100% natural-origin
100% multi-use
Only 6 Ingredients
Fragrance & Allergen Free
Phthalate Free
For All Skin Types
Cruelty Free
Bioplastic Tubes
65% PCR Caps
FSC Paper
100% Recyclable
Cert Clean
4-in-ONE
1. Hair Mask
2. Hair Conditioner
3. Face Lotion
4. Body Lotion
Product Details
Ready to transform your face, body& hair care routine babes? Say no more! Welcome our 100% natural 'Before n'After' all over daily conditioner. It rolls four daily products into just one fabulous multi-use conditioner. Oh yes you heard that right! Replace your hair mask, conditioner, face &body lotion with this hydrating but non-greasy formula. And psst…it's so gentle yet so effective it can be used for all skin & hair types of all ages. So slap it on!
what's the fragrance?
The product barely has any smell at all and we've added no fragrances or flavours at all! Most fragrances contain allergens. We wanted no irritants at all so you can be as natural as you can be.
Where can i use it?
Your Before N'After is your new daily conditioner that will replace your hair mask, hair conditioner, face lotion & even body lotion! 
How long will it last?
Depending on how much you use each day, this tube should last you about 2-3 weeks of every day use. It's perfect for travel.

Aloe vera
Aloe vera juice from Guatemala - used for its soothing & moisturising qualities

Corn Starch
Corn Starch from China-helps the pigments stay evenly suspended within the balm

Coconut
Coconut oil from Malaysia - gentle foaming agent (All Ways). Smooths & conditions in (Before N'After)

Brassica Oil
Brassica Oil from USA - conditioning agent that provides structure to the Before N'After

Sugar cane bagasse
Sugar cane bagasse from South Africa - all natural preservative (All Ways). Core conditioning agent (Before N'After)

Cassia oil
Cassia oil from South East Asia - preservative for a broader spectrum protection against microbial growth 1
FREE shipping for orders over:
£25 to UK (2-3 days)
€58 to Europe & ROW (5-7 days)
$25 to USA (2-5 days)
*Any duties/taxes for EU orders are not included. No pain no gain!
fast shipping
Its possible but expensive!
£6.50 to UK (1-2 days)
€30.00 to Europe (2-3 days)
£50.0 to ROW (2-3 days)
$10.00 to USA (1-3 days)
£55.00 to GCC (2-3 days)
*We've got to get your order by 12pm GMT. So don't miss the cut of time.
Need any help?
Just email us at info@drlipp.com.

If you want to know where your package is, simply click on the tracking number in your order confirmation.
Packaging BIOPLASTIC TUBES
We switched to Bio Plastic tubes made from Sugarcane in 2022 as part of our initiative to get to net ZERO emissions by 2025. Ideally, we would be using compostable tubes but sadly technology is not there for tubes yet. So until then we've committed to only using Bioplastic for all our tubes. The great thing about Bio plastic is that it is made from a renewable source which is sugarcane which actually captures carbon from the atmosphere into the ground. As opposed to plastic made from fossil fuels which does the opposite. Bioplastic is a little more expensive, but we think it's worth it.
PCR CAPS
All our caps are made from 65% post-consumer recycled plastic. 65% is the maximum amount of PCR we could use whils keeping the stability and integrity of the caps, which need to be harder and more stable than the tubes.
FSC PAPER
In 2002 we made the decision to move away from wrapping our products in cellophane and uncertified paper to a commitment to only use FSC certified paper. When you purchase FSC-labelled products you're helping forests, and the people that rely on them, thrive by supporting: zero deforestation, fair wage and work environments, community rights, and supporting the change from preservation to conservation. 
100% recyclable
Every component in our packaging is recyclable!
Over 11+ amazing awards
Our gorgeous Before N'After has won over 11+ awards, not just for it's fabulous effectiveness and natural ingredients, but it's green credentials as well.