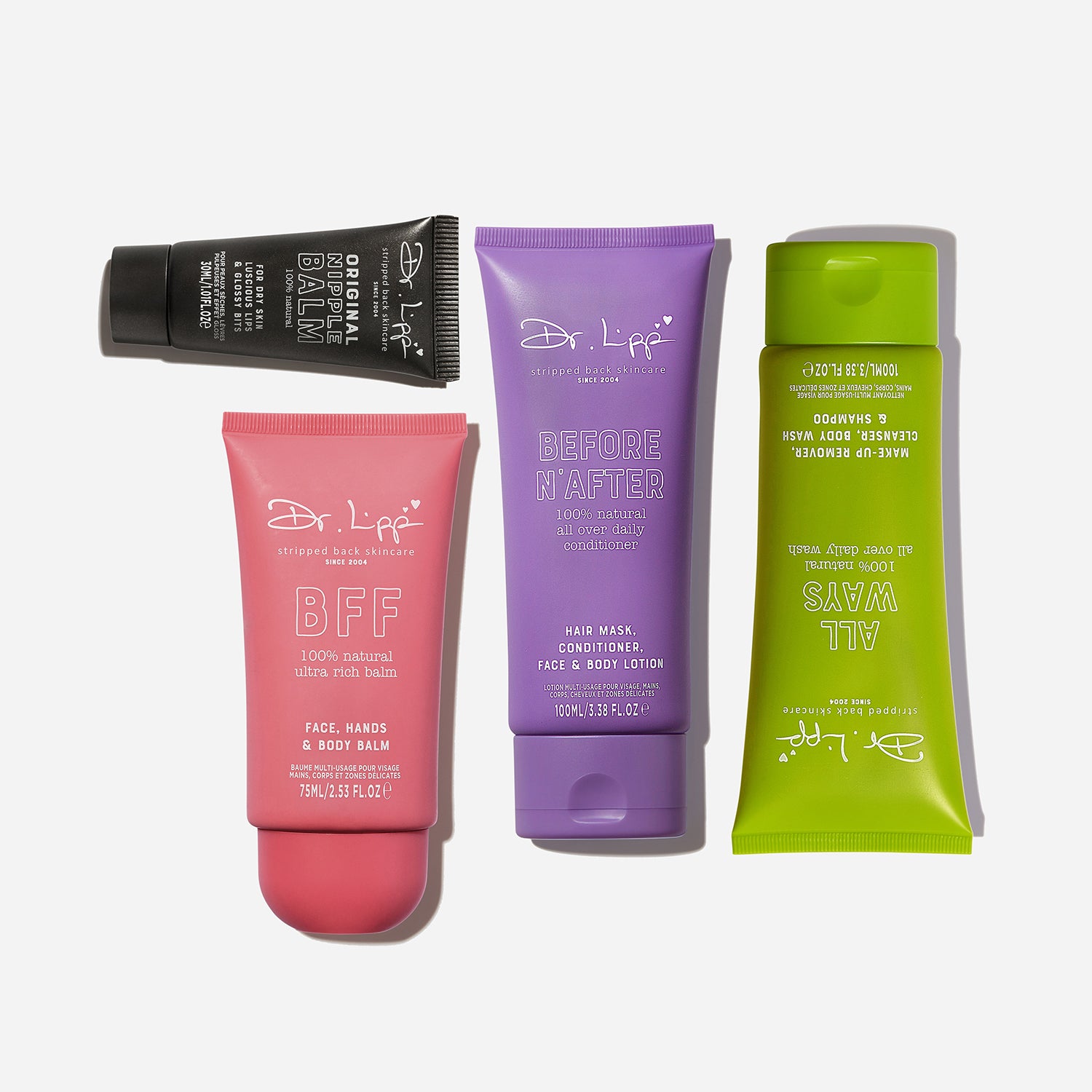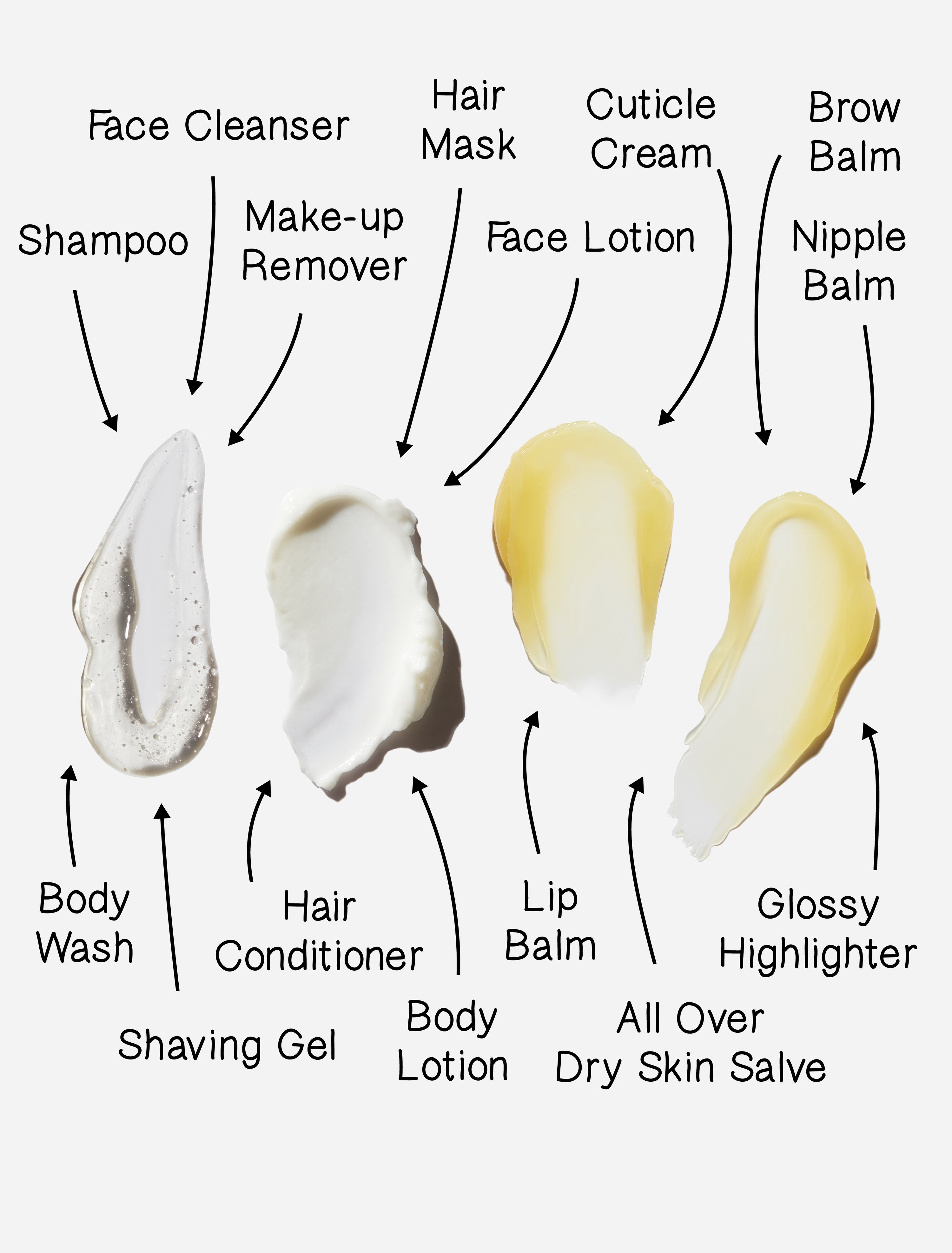 Only FOUR daily hair & skincare products. 2 x 100ml, 75ml & 15ml.
All You Need Bundle
£70.00
Regular price
£86.00
Subscription save
100% natural-origin
100% multi-use
Only 12 Ingredients
Fragrance & Allergen Free
Phthalate Free
For All Skin Types
Cruelty Free
Bioplastic Tubes
65% PCR Caps
FSC Paper
100% Recyclable
Cert Clean
23-in-FOUR
1. Make-up Remover
12. Hand Balm
2. Face Cleanser
13. Foot Balm
3. Body Wash
14. Lip Balm
4. Shampoo
15. Lip Gloss
5. Shaving Gel
16. Cuticle Cream
6. Hair Mask
17. Eyelash Conditioner
7. Hair Conditioner
18. Brow Balm
8. Face Lotion
19. Beard Balm
9.Body Lotion
20. Nipple Balm
10. Face Balm
21. Dry Skin Salve
11. Body Balm
22. Glitter Glue
23. Glossy Highlighter
All You Need Bundle
£70.00
Regular price
£86.00
PRODUCT DETAILS
Four 100% natural-origin multi-use hair & skin roducts for every day.This is truly all you need. So strip it all back & make it simple babes! Replace your shampoo, body wash, face cleanser, make up remover & shaving gel with the 'All ways'every day wash for hair & skin all over. Replace your hair mask, conditioner, face & body lotion with the 'Before n'After' every day conditioner, a hydrating but non-greasy formula for both hair & skin. What's not to love?! Everyone needs an ultra-rich 'BFF' of course…replacing your face cream, hand cream & body butter. And we can't forget our hero 'Original Nipple Balm'…use for all your dry nips & bits and replace your lip balm, lips gloss, brow balm, cuticle cream and more! Trust us…you don't need anything else!
Why do i only need 4 products?
'The world doesn't need more of thesame skincare products. It needs fewer efficient, but effective products,' says Dr.Lipp founder, Pontine Paus. We've designed our new 100% natural multi-use skincare range to have you washed, cleansed, shampooed, conditioned and hydrated with a natural dewy look from head to toe…'all you need' for beautiful natural hair & skin all over regardless of skin or hair type!
what's the fragrance?
All Dr.Lipp's products barely have any smell at all and we've added no fragrances or flavours at all! Most fragrances contain allergens. We wanted no irritants at all so you can be as natural as you can be
How is this better for the environment?
We're glad you asked babes! Did you know that on average, people leave 10% of the contents of product behind when they throw out the tube. By combining 15 products into only 4, we're reducing packaging alone by 73% and approximately 70% actual product wastage. Wow!
Only 12 100% natural-origin ingredients

Aloe vera
Aloe vera juice from Guatemala - used for its soothing & moisturising qualities

Coconut
Coconut oil from Malaysia - gentle foaming agent (All Ways). Smooths & conditions in (Before N'After)

palm oil
Sustainable palm oil from Indonesia - gentle foaming cleanser (All Ways). A moisturising humectant (Before N'After)

Chicory root
Chicory root from Belgium - prebiotic to help rebalance the skin's microbiota

Maize
Maize from USA - natural thickener & stabiliser making the formula more manageable

Sugar cane bagasse
Sugar cane bagasse from South Africa - all natural preservative (All Ways). Core conditioning agent (Before N'After)

Cassia oil
Cassia oil from South East Asia - preservative for a broader spectrum protection against microbial growth 1

Sugar beets
Sugar beets from Austria - adjusts PH to 4.9-5.3PH which is a friendly level for both hair and skin

Corn Starch
Corn Starch from China-helps the pigments stay evenly suspended within the balm

Brassica Oil
Brassica Oil from USA - conditioning agent that provides structure to the Before N'After

Lanolin
Medical grade lanolin from Australia-used for its instantly hydrating & moisturising qualities
Fast shipping
£25 to UK (2-3 days)
€58 to Europe & ROW (5-7 days)
$25 to USA (2-5 days)
*Any duties/taxes for EU orders are not included. No pain no gain!
fast shipping
Its possible but expensive!
£6.50 to UK (1-2 days)
€30.00 to Europe (2-3 days)
£50.0 to ROW (2-3 days)
$10.00 to USA (1-3 days)
£55.00 to GCC (2-3 days)
*We've got to get your order by 12pm GMT. So don't miss the cut of time.
need any help?
Just email us at info@drlipp.com.

If you want to know where your package is, simply click on the tracking number in your order confirmation.
Packaging BIOPLASTIC TUBES
We switched to Bio Plastic tubes made from Sugarcane in 2022 as part of our initiative to get to net ZERO emissions by 2025. Ideally, we would be using compostable tubes but sadly technology is not there for tubes yet. So until then we've committed to only using Bioplastic for all our tubes. The great thing about Bio plastic is that it is made from a renewable source which is sugarcane which actually captures carbon from the atmosphere into the ground. As opposed to plastic made from fossil fuels which does the opposite. Bioplastic is a little more expensive, but we think it's worth it.
PCR CAPS
All our caps are made from 65% post-consumer recycled plastic. 65% is the maximum amount of PCR we could use whils keeping the stability and integrity of the caps, which need to be harder and more stable than the tubes.
FSC PAPER
In 2002 we made the decision to move away from wrapping our products in cellophane and uncertified paper to a commitment to only use FSC certified paper. When you purchase FSC-labelled products you're helping forests, and the people that rely on them, thrive by supporting: zero deforestation, fair wage and work environments, community rights, and supporting the change from preservation to conservation. 
100% recyclable
Every component in our packaging is recyclable!
Over 73+ Awards!
Our skin & haircare range has won over 73+ amazing awards, not just for our fabulous products and natural ingredients, but our green credentials as well. That's a long list, so here's a few of our proudest.